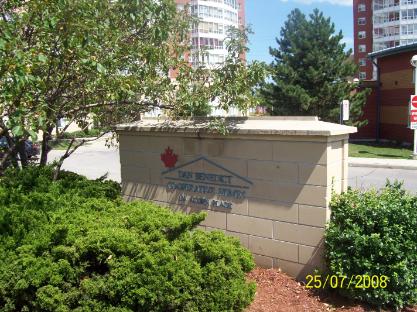 FAQ
Who lives in co-ops?
Not for profit housing co-ops are mixed communities. Members come from a variety of backgrounds and have a wide range of interests. At Dan Benedict Co-op we have singles, families with children and seniors living in our co-op. We have professionals and stay at home moms and dads. The wide range of backgrounds provides the co-op with many internal resources for information and education.
How long will I have to wait to get into a co-op?
After applying, it takes from three months to three years to get into most co-ops.
How should I send my application?
Please see the info here.
How long are applications kept on file?
We keep applications in file for 6 months. For this reason, co-op applicants need to re-submit their application every 6 months.
Do you accept pets?
No, we have a "no pets" policy.
Are there laundry hook-ups in the suites?
No, washing machines and dryers are not allowed in the units. Alternatively, there is a laundry facility located on the 11th floor in the building with card operated high efficiency laundry machines.
Are there dishwasher hook-ups in the suites?
No, dishwashers are not allowed in the units. The building's water and drain pipes are not intended or designed for the use of dishwashers.
Are co-ops low income housing?
No, co-ops are mixed income communities for people of all income levels. Housing co-ops house members of low, moderate and high incomes.

What is subsidy?
The co-op receives funds from the Region of Peel to help subsidize lower income families in the co-op. These members pay housing charges based on a percentage of their gross annual income.
How does a Housing Co-operative work?
Each co-operative is an incorporated group, owned by the people it serves. Each resident member has one vote. A Board of Directors is elected to manage the co-op's affairs. Various volunteer committees are formed to assist the Board or the Board may hire professionals to administer certain tasks. However, ultimate control remains within its members.
How is co-operative ownership different from renting?
Co-op ownership provides security of tenure. Member's leases do not have a time limit. Members control their collective operating costs and management. There are not any absentee landlords. There is no profit to anyone.
What is a monthly housing charge?
A monthly housing charge is like rent. It's what the members pay each month to live in the co-op. Housing charges are based on the co-op's operating expenses and can change from year to year based on the projected expenses of the co-op.

What income is needed to join a housing co-op?
There aren't any income qualifications for membership. However, the co-operative as a group must have a mix of incomes which allows them to meet their expenses. Thus, there is a mixture of low, moderate and high incomes.
Will I ever own my unit?
Members don't individually own their units. Ownership is collective and rests with the entire membership. However, members have the right to residency provided they fulfill their membership agreement with the co-op. Only willful and serious breach of the lease or rules set down by the members is cause for membership to be revoked.
Do I need insurance?
The Co-op has insurance on all common areas of the property, but you are responsible for insurance on the contents of your home. Be sure that it is in place for the date of your move-in.
If you have already have insurance, just tell your insurance agent about your move. However, you should be aware that there is a discount for members of housing co-ops who arrande their insurance from The Co-operators Insurance.
To obtain information about The Co-operators Insurance coverage for your household (called MemberGuard) and/or for your automobile (called AutoGuard) please contact an insurance representative at 1-800-387-1963.
Is participation required in your co-op?
Yes, participation is required and mandatory. Not doing so is considered a breach in the resident member's membership agreement.
Why is participation required?
"Participation required" means that when you become a member of the co-op you will be expected to get involved in running the co-op. Participation at Dan Benedict Co-op is mandatory and all members are required to sign up for a task and attend General Membership Meetings.
As part of their commitment to Dan Benedict Co-op, members contribute four hours of their time each month to do the various tasks that the Co-op needs. We organize tasks according to members' skills and abilities.
Living in a co-op means participation. Participation is not a negative thing - rather it is a positive one. It gives members the opportunity to meet their neighbours, learn new skills and ensure the co-op's operating costs are offset by member involvement.
By sharing our skills with each other, we make each other's lives easier, and our own lives more enriched.
____________________
If you are interested in Dan Benedict Co-op and did not find the information you were looking for anywhere else on this site, please email your question to danbenedict@bellnet.ca.